This is the incredible story of Skinny and Fatty, two happy-go-lucky country boys who turned a trailer full of war surplus into a multi-million dollar enterprise. Midway between Seattle and Portland, Yard Birds became the retail and social epicenter for generations. With one-of-a-kind merchandise, wacky promotional gimmicks and scores of devoted employees and patrons, Yard Birds was more than just a fun place to shop – it was a community institution.
Skinny and Fatty: The Story of Yard Birds (Trailer)
---
---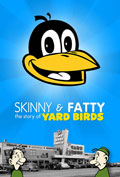 Skinny and Fatty: the story of Yard Birds is available on DVD. $9.99 + $3 shipping.