When we went to the Yard Birds employee reunion in 2006, Paul Downing the talented graphic artist and sign painter from Yard Birds, introduced us to his son Bill Downing. Bill, a former employee also, was there playing music with his band Yowza. His band mate Eric Alton was a local resident also and had a lot of knowledge and memories about the old stores. It was clear to us that they were a big part of the Yard Birds family.
Eric Alton (Guitar/Vocals) and Bill Downing (Bass/Vocals) have been playing music together in various bands and formats around the south sound for over 10 years now.
In 2006 they were able to accumulate enough music to put together a recording which eventually became the self-titled "Yowza!" album. Having both been raised in Centralia/Chehalis area, Eric and Bill were on the hunt for a cover art concept for the forthcoming CD.They came up with the idea to pull from Bill's dad's Yard Birds Archives and put together an art concept that kept with the band's roots, rock & roll style and sense of humor.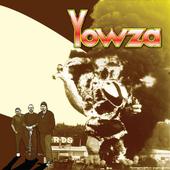 The cover features the famous burning fiberglass Yard Bird, paying homage to the style of an unnamed classic heavy band who had their own burning Led balloon album cover. All the pieces of the art came together for the band and they had their completed cd.
Yowza was happy to have the opportunity to play at the Yard Birds employee reunion and have one of their tracks featured on "Skinny & Fatty, The Story Of Yard Birds".
Check out their Myspace page, listen to their music and say hello… They still play out on occasion and are currently in the studio working on their follow up album … which should come out hopefully before the next Yard Birds Employee Reunion.