This early document was written to give new customers a quick history of the store. It has some information on how they developed the property of the old store which is the current home of the Sunbirds Shopping Center in Chehalis, WA.
Welcome Visitors to The Yard Birds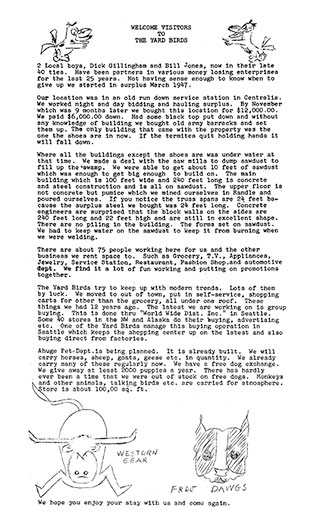 2 Local boys, Dick Gillingham and Bill Jones, now In their late 40 ties. Have been partners in various money losing enterprises for the last 25 years. Not having sense enough to know when to give up we started in surplus March 1947.
Our location was in an old run down service station in Centralia. We worked night and day bidding and hauling surplus. By November which was 9 months later we bought this location for $12,000.00. We paid $6,000.00 down. Had some black top put down and without any knowledge of building we bought old army barracks and set them up. The only building that came with the property was the one the shoes are in now. If the termites quit holding hands it will fall down.
Where all the buildings except the shoes are was under water at that time. We made a deal with the saw mills to dump sawdust to fill up the swamp. We were able to get about 10 feet of sawdust which was enough to get big enough to build on. The main building which is 100 feet wide and 240 feet long is concrete and steel construction and is all on sawdust. The upper floor is not concrete but pumice which we mined ourselves in Randle and poured ourselves. If you notice the truss spans are 24 feet because the surplus steel we bought was 24 feet long. Concrete engineers are surprised that the block walls on the sides are 240 feet long and 22 feet high and are still in excellent shape. There are no piling in the building. The forms set on sawdust. We had to keep water on the sawdust to keep it from burning when we were welding.
There are about 75 people Working here for us and the other business we rent space to. Such as Grocery, T.V., Appliances, Jewelry, Service Station, Restaurant, Fashion Shop.and automotive dept. We find it a lot of fun working and putting on promotions together.
The Yard Birds try to keep up With modern trends. Lots of them by luck. We moved to out of town, put in self-service, shopping carts for Other than the grocery, all under one roof. These things we had 12 years ago. The latest we are working on is group buying. This is done thru "Worldwide Dist. Inc." in Seattle. Some 40 stores in the NW and Alaska do their buying, advertising etc. One of the Yard Birds manage this buying operation in Seattle which keeps the shopping center up on the latest and also buying direct from factories.
A huge Pet-Dept. is being planned. It is already built. We will carry horses, sheep, goats, geese etc. in quantity. We already carry many of these regularly now. We have a free dog exchange. We give away at least 2000 puppies a year. There has hardly ever been a time that we were out of stock on free dogs. Monkeys and other animals, talking birds etc. are carried for atmosphere. Store is about 100,00 sq. ft.
We hope you enjoy your stay with us and come again.